Maintenance Countdown
This update has been applied!
Maintenance Schedule

"We will be performing a scheduled maintenance beginning on Thursday, January 25th, 07:10(UTC+0) and we expect the service to be available again at approximately 09:50(UTC+0). During this time the game will be unavailable for play."
Maintenance Details

▸ New Astromon Added

Kiki(3★Fire/Water/Wood, 4★Light/Dark) added
Kiki will be available to use as a Supporter
New Skill Books added for Kiki(3★Fire/Water/Wood, 4★Light/Dark)

▸ Costume Boutique and Materials Added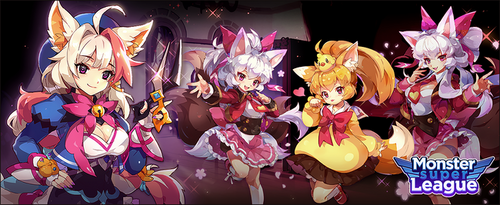 3 costume collections added (3 different colors each)

Back to School Collection (Miho, Ran, Horan)
New Class Collection (Vulpiness Ran)
Senior Class Collection (Vulpiness Horan)

Costume's colors don't relate to Astromon's elements
Purchased costumes can be worn by same Astromons simultaneously
Astromons with costumes equipped will have a small ribbon mark on their character's thumbnail
Mystic Fabric - Specific in-game materials for crafting costumes. You can get them through:

[Mystic Fabric] Purchase Pop-up
Crystal Shop -> Mystic Fabric
Login Event's 22nd to 27th rewards will be replaced to Mystic Fabrics (Starts on February 1st)
Rewards from completing Bingo will sometimes give you Mystic Fabric

▸ Synergy Updates
7 New Hidden Synergies from the winners of the "2nd Hidden Synergy Event" added

Winner's names will be shown by pressing Synergy's buttons

All synergies will now apply to "All Areas"

"All Areas" however, excludes "Clan Regional Defense, Clan Conflict, and Ancient Colossus Dungeon"
Bug Fixes

▸ General
Login Event's 7th day reward will change from "[High] Secret Egg" to "[Legendary] Secret Egg"
Fennec(3★Fire/Water/Wood, 4★Light/Dark) and Kiki(3★Fire/Water/Wood, 4★Light/Dark)'s skill books will now drop in various stages
After graduating from Clan Apprentice, 1,000,000 gold will be distributed by joining any clans again (Once only)
Damage done to Titans during Clan Regional Defense will be shown at the top of the screen (Excludes Clan Login Bonuses)
Recorded "Best Clear Time" will now apply to every sub stages instead of the whole stage
Number of "Dragon Sigils" will show on top of the Dragon Dungeon icon in the world map

▸ Bug Fixes
Fixed a bug that turning off "Notice at Battle's End" in the Settings also caused "Rare Astromon Notices" to not work
Fixed an issue that hatching eggs continuously made the result screen abnormal
Fixed a bug that caused the Bingo timer to stop running
Fixed an issue that caused the game to freeze when pressing "i" button in the Hidden Synergy page during the pause of the battle
Fixed a bug that removed Crowd/Creature Controls (Stun, Petrify, etc) from the enemy Astromons after failed to capture one
Fixed an issue that Super Laboratory to show notice even if you don't have enough materials to craft Super Stones
 Ending Events

▸ Ends on Jan 25th after the maintenance
Fennec as your Supporter
[Limited]Adieu 2017! Airship Pack Discount Event
▸ Ends on Jan 31st 02:59(UTC+0)
Grabag Capture Festival
[Season Limited] (3★)Variant Grabag(Fire) Available at Crystal Shop
[Season Limited] (3★)Grabag(Light)&(3★)Grabag(Dark) Packages
[Season Limited] New Year's Package
[Grabag Capture Festival Limited] Benedict's Support Package 1+1 Event
[Season Limited] (3★)Grabag(Fire)'s Soulstones Available at Shady Shop
▸ Ends on Jan 31st 14:59(UTC+0)
[Season Limited] (3★)Grabag(Fire) Guardian Dungeon
3 Packages for Fusion to make the best out of Grabag Capture Festival
[Season Limited] 4 Skill Books
▸ Ends on Jan 31st 23:59(Local Time)
[Season Limited] Epic Fusion Event!
Community content is available under
CC-BY-SA
unless otherwise noted.